High school to college is a definite transition.
Some things are harder to get used to like workload, or being so far away from home. But, one thing is far better in college.
Campus Dining.
Yes, we are all far too familiar with the pizza, corn and milk that nourish students across the country. However, campus dining is in a completely different league.
Do you want pizza and coffee? You can have that.
Salad and a water? You can have that.
Fried chicken and an icee? You can have that.
But, it can be difficult to navigate campus dining.
So here is a guide to the who's who of campus dining at Auburn University.
Most Likely to Have the Longest Line at Lunch

You'll hear students refer to the Chinese food chain by one name only, Panda.
With locations in both Foy and Terrell halls, Panda Express is a campus favorite. People will even suffer the long line for it, we're talking well over 50 feet long.
Orange chicken, fried rice, lo mein, Beijing beef are some of the more decadent options. However, there are lighter options like string bean chicken, broccoli beef and white rice.
Regardless if you get a bowl or a plate, you'll be full and satisfied.
Harlan Bailey, senior, says Panda is his favorite place to eat on campus because, "it's the most filling meal I can get on campus."
However, he wants to stress moderation, "I only get it once a week though," he laughs.
My suggested meal: Orange chicken and white rice bowl, with a water and of course a fortune cookie.
Best Meals for an Emerging Vegan or Vegetarian
Did your mom or dad insist on you eating meat or dairy while at home? Well, college is the perfect time for you to switch up your diet.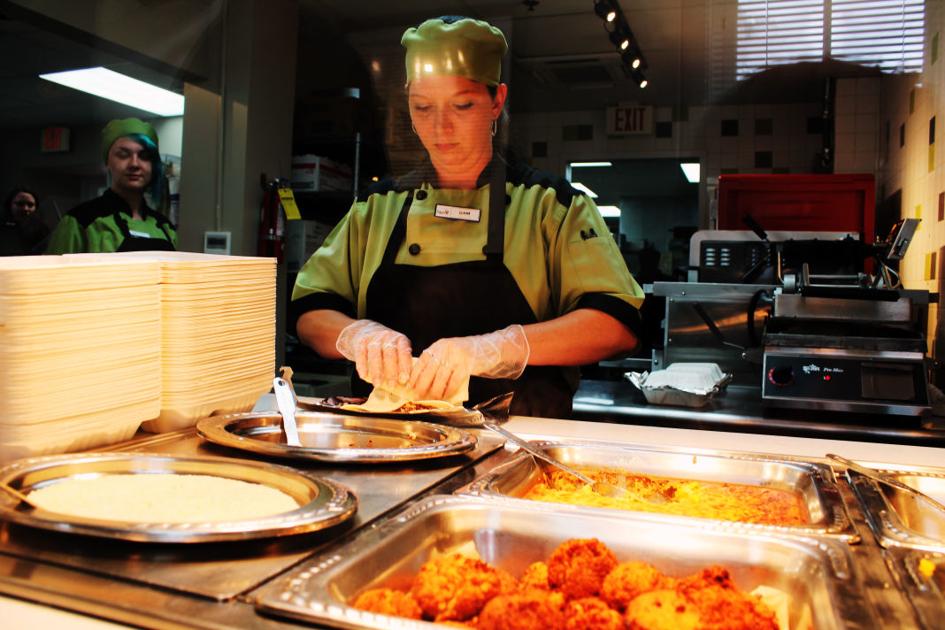 Whether it's for health or ethical reasons, or just wanting to try something new, veganism and vegetarianism are on the rise.
Plains 2 Plate is the perfect place on campus for those wanting to be more conscious of their meals.
The nation's first certified gluten-free on-campus restaurant, has an assortment of options with locally sourced ingredients.
From sweet potato mash to black-eyed pea fritters to banana waffles and fruit salad (for breakfast of course)– Plains 2 Plate has it all for those embrace fruits and veggies.
But, there's some meat too. The pork is marinated to perfection, and the chicken isn't half bad either.  There's a little something for everyone.
In fact, Maddy Hickman, junior, says Plains 2 Plate is one of her favorites because, "it's healthy and tasty. I like all the different options."
My suggested meal: Always get the Ginn with the mixed veggie side and make sure that Ms. Mae makes it for you.
Best Place for a Quick Pick-Me-Up
Chicken Salad Chick is sophomore, Carder Dransfield's favorite place to eat on-campus. And she's not alone.
Chicken Salad Chick is a close second to Panda Express for the the longest line at lunch. But, for good reason.
The chicken salad is good.
While you may think of your grandma's signature dish at family picnics, but this is far from your granny's salad.
'I love all of the variety Chicken Salad Chick offers with flavors and side options," says Dransfield.
This restaurant offers classic chicken salad with Olivia's Old South, but can kick it up a notch with Jalapeño Holly and Buffalo Barclay; and these are only a portion of its traditional, savory, fruit and spicy flavors.
The sides are also great for making you feel good. You can get something light and sweet like grape salad or a fruit cup, or hearty like broccoli salad or soup.
But, the best things about Chicken Salad Chick are the cookies.
While there has been controversy over the switch from chocolate chip to the buttercream frosted cookies, but they're delicious nonetheless.
You get a cookie (and a pickle) with every meal. And if that's not enough of a pick me up, I don't know what is.
Campus dining is a world to be explored, one swipe at a time.  So grab a fork and dive in.
For more information about Campus Dining visit Tiger Dining's website, Twitter or Instagram.